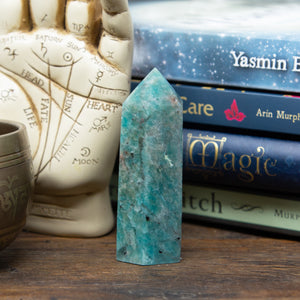 EMF BARRIER
Amazonite opens intuition and grounds it in everyday reality. Protecting against electromagnetic fields, it blocks geopathic stress. Grid it around a room or source of EMF smog. Harmonising aspects of the personality, Amazonite assists in seeing both sides of a problem and taking different points of view into consideration. It soothes emotional trauma, alleviating worry and fear, and supports friendship. Amazonite provides powerful protection when travelling through multidimensions in an expanded state of consciousness. It disentangles karmic ties, realigns the physical body with the etheric and balances masculine and feminine energies.
Size (approximately): 6.4cm x 2.4cm x 2.3cm

Judy Hall's Crystal Companion.