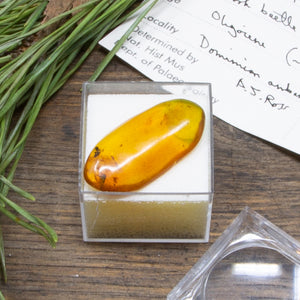 This stunning Amber piece comes with a certificate of authenticity from the Natural History Museum; Department of Palaeontology.
Group: Coleoptera: Scolytidae
Name: Bark Beetle
The most ancient of decorations, Amber beads have been found in graves dating to 8000 BCE. Because of its natural warmth, Amber was regarded as a living being, and the Chinese believed that the souls of tigers metamorphosed into Amber at their death. When Amber is rubbed against wool or silk it becomes electrically charged; its Greek name was electron, from which the word "electricity" is derived. Strictly speaking, Amber is not a crystal, being tree resin that solidified and became fossilized. With strong connection to the earth, it is a grounding stone for higher energies. A powerful healer and cleanser that draws disease from the body and assists tissue revitalisation, Amber cleans the environment and the chakras. It absorbs negative energies and transmutes them into positive forces that help the body heal itself. This stone provides a protective shield to prevent healers from taking on client's pain also protects against psychic vampirism.