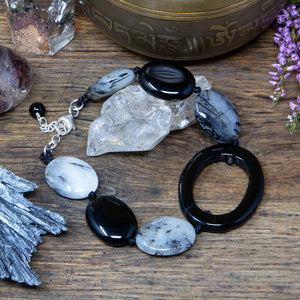 Chunky black agate and tourmalated quartz bracelet with sterling silver fixings. 
Black agate is known for its grounding and centring effects. This stone stabilises the root chakra, helps with cleaning your body from negative energy and negative thoughts giving you the opportunity to prosper.
Tourmalated quartz: a fantastic combination of master healer and master protector, black tourmaline is a brilliant crystal for grounding and protecting, so growing with quartz (master healer) brings you the best of both.

Length (approximately): 18.5cm with 2.5cm extender chain