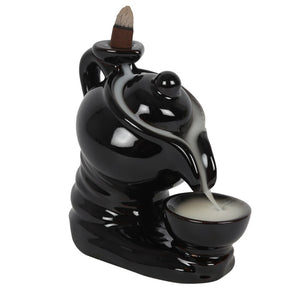 A black ceramic backflow incense burner with an eye-catching teapot and cup design.
When a backflow cone is placed on the handle, smoke gently flows from the teapot's spout and collects inside the teacup below.
These burners need to be placed out of drafts, and will benefit from a wipe/ clean after each use to remove the oil from the incense cone, this keeps it in tip-top condition to work.
H15cm x W14cm x D9cm