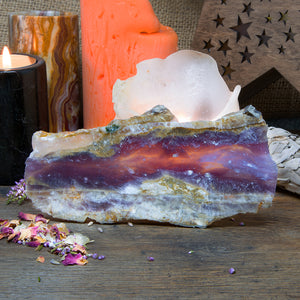 This crystal brings mind, body, emotions, and spirit into harmony. A powerful cleanser, it absorbs negative energy and dissipates it to prevent onward transmission. Chalcedony promotes brotherhood and enhances group stability and can be used to assist telepathy. Removing self-doubt and facilitating constructive inward reflection, it creates an open and enthusiastic persona.
Size (approximately): 15cm x 7cm x 0.8cm
Extract: Judy Hall "Encyclopedia of Crystals"