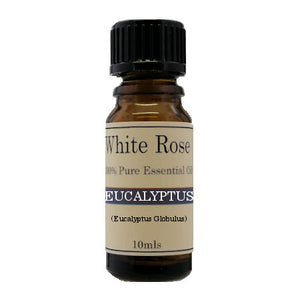 Historical : The eucalyptus tree was known as the Fever Tree as the strong odours were supposed to improve the well-being of people living in swampy areas. The first person to identify eucalyptus oil as having medicinal properties was Baron Ferdinand von Mueller of the Botanical Gardens in Melbourne, Australia. In Sicily, eucalyptus trees were planted to combat malaria. The British Pharmacopeia approved the use of the oil in 1885.
Of Interest :Eucalyptus trees carry so much essential oil that they can often be seen shrouded in a blue haze. It was smoked by the aborigines to treat asthma and bronchitis. Also, it was burnt to fumigate against fever.
Eucalyptus oil has widespread use in cough medicines, toothpastes, inhalants and ointments.
Aromatherapy Properties :Burns, blisters, cuts, herpes, insect bites, insect repellent, lice, skin infections, wounds. Muscular aches and pains, poor circulation, rheumatoid arthritis, sprains. Asthma, bronchitis, catarrh, coughs, sinusitis, throat infections.
Cystitis, chickenpox, colds, flu, measles. Debility, headaches, neuralgia.
Powerful antiseptic and healing agent. Renowned for treatment of respiratory complaints – often used in inhalants. Can relieve fever and skin irritations. Head-clearing, uplifting, refreshing. Good insect repellent – esp. cockroaches and silverfish.
Blends Well With : Thyme, rosemary, lavender, marjoram, pine, cedarwood, lemon, benzoin
Safety Data : Non-toxic externally. Internally very toxic – 3.5ml is usually fatal. Not compatible with homeopathic treatments.
Name :
Eucalyptus
Method : 
Steam distillation
Note Classification : 
Top
Scent : 
Strong, fresh, camphoraceous, woody
Colour : 
Colourless or pale yellow
Species : 
Eucalyptus globulus
Family Myrtaceae
Extracted From : 
Fresh or partially dried leaves