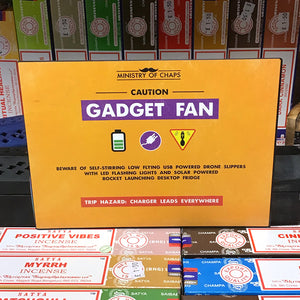 Gadget Fan Metal Sign - Ministry of Chaps by Harvey Makin - Funny Plaque
Gadget Fan metal sign from the Harvey Makin Ministry of Chaps range
Ideal as a gift for that avid gadget collector you know.
Humorous sayings about gadget users. 
Caution - Gadget Fan.

Beware of Self-Stirring Low Flying USB Powered Drone SLippers with LED Flashing Lights and Solar Powered Rocket Launching Desktop Fridge.

Trip Hazard: Charger Leads Everywhere.
The sign comes with 2 fixings on the back for attaching to a wall or door. 
Approx Dimensions: 15cm x 21cm.