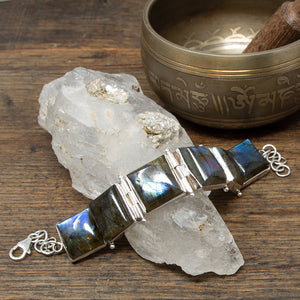 Six beautiful pieces of labradorite (1.5cm x 1.5cm) set in sterling silver, each crystal is dazzling with rainbows. 
Weight: 43g
Length: 19cm
Labradorite is a truly breath-taking crystal which has a dark grey exterior, but when gazing upon this crystal you will see flashes of green, gold, purple, orange, red and blue, it is a stone of magic and protection.  It will bring you into deep depths where an abundance of knowledge can be discovered, it will awaken your unique magical abilities and help to enhance the conscious mind.
Labradorite teaches us an incredible life lesson that what you see is not always reality.  Due to the spectral colours Labradorite allows us to move through the unseen realm whilst still purifying one's light energies.  It invites us to become more adventurous and seek out what we do not normally desire - one of my all time favourites.