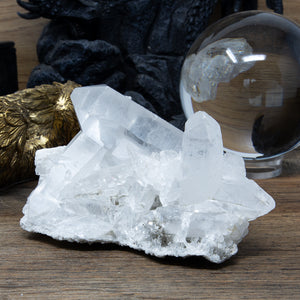 Clear Quartz is the most versatile healing stone among all crystals, and is the most common and abundant in the world, this crystal opens the mind and heart to higher guidance. 
Clear Quartz is known as the stone of power and amplifies any energy or intention, and that of other crystals.
Clear Quartz protects against negativity, attunes to your higher self, and relieves pain, and whatever energy you bring, it will amplify that energy, that's why its known as the "master healer".
Size (approximately): 11cm x 7.5cm x 6.5cm
Weight: 401g