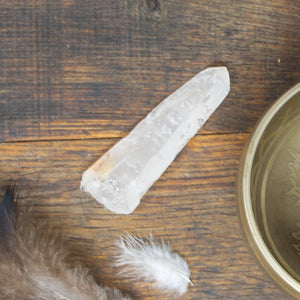 Lemurian crystals open a portal to stellar experiences, anchoring ancient wisdom into the present. Attuning to previous spiritual training, they reawaken inherent skills. Teaching that we are many-dimensioned beings with a small part in physical incarnation, they pierce illusions of separateness, reminding us of our spiritual ancestry. Lemurian insists that we do personal inner work as well as facilitating the evolution of others. The etched markings are ascended like a ladder, accessing inter- and multidimensional consciousness. Lemurians teach that time is an illusion, showing how to move beyond its boundaries into true reality, taking an objective viewpoint of prior lifetimes. 
Size (approximately): 6.5cm x 2cm x 2cm
Weight: 26g
Extract from Judy Hall's Crystal Companion.