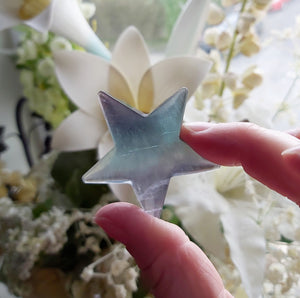 Rainbow Fluorite polished star.
Rainbow Fluorite exhibits a combination of colours as the name suggests, such as purple, blue, green, clear and yellow. It has a combination of colours inherent in fluorite crystals.
It helps cleanse, stabilize and protects the aura. It is an excellent learning aid, increasing powers of concentration and self-confidence. It helps in decision-making and helps balance and coordination. Rainbow Fluorite is a popular stone among energy healers.