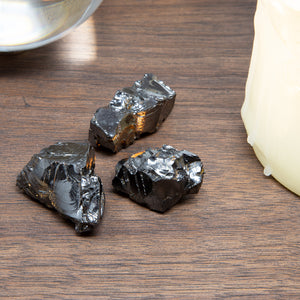 Over two billion years old, anti-geopathogenic and profoundly protective, Shungite has a phenomenal shielding and purifying power that arises from its unique formation. A rare carbon mineral, it is composed of fullerenes. It protects against radiation, electromagnetic and geopathic stress, microwave and other vibrational emissions, and the diseases these can create. Immersed in water for several hours, it transforms the water into a biologically active life-enhancing substance removing harmful microorganisms and pollutants. Research shows Shungite absorbs pesticides, free radicals, viruses and bacteria. Reputed to be a cure-all, it has long been used in healing spas in Russia. Boosting physical well-being, it has a powerful effect on the immune system.
Shungite grounds spiritual energies into the body and anchors the body to the earth. It has a powerful link to ancient earth energies, restoring ley lines and the earth's meridians. It is highly supportive during metaphysical work of all kinds and is said to enhance prophecy.
This is for 1 crystal - colour / shape / weight will vary.
Large: £9.99
Medium: £7.99