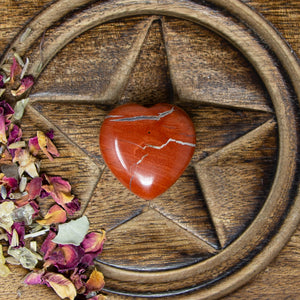 In carrying the generic properties of Jasper (below), Red and Brecciated Jasper provide gentle stimulation, grounding energy and rectifying unjust situations. Bringing problems to light before they escalate, Red Jasper makes an excellent tumble stone for calming emotion. Placed under the pillow, it promotes dream recall. Stimulating the base chakras, cleansing and stabilising the aura, Red Jasper returns negativity to its source. It calms sexual aggressiveness, promotes sexual compatibility, and enhances tantric sex.
Jasper: Known as the "Supreme Nurturer", Jasper sustains and supports during times of stress and unifies all aspects of life. This stone facilitates shamanic journeys, dowsing, and dream recall. Providing protection, it absorbes negative energy, balances yin and yang, and aligns the physical emotional and mental bodies with the etheric realm.
Bringing the courage to get to grips with problems assertively, and encouraging honesty with oneself, jasper imparts determination to all pursuits and supports during necessary conflict. This stone aids quick thinking, promotes organisational abilities and seeing projects through, and stimulates imagination, transforming ideas into action.
Size (approximately): 3cm x 3.2cm x 1.3cm

2 AVAILABLE, COLOUR/PATTERN MAY VARY