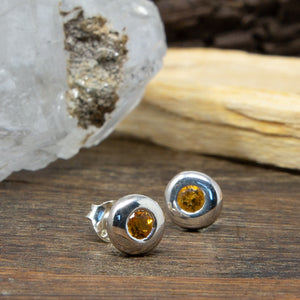 Citrine stimulates the digestive system, spleen and pancreas. Powerful in detoxing the blood and aiding in clearing infection of the kidneys and bladder, it is great for chronic fatigue syndrome. 

This stone is good for people who suffer with depression and anxiety as it is a stone of positivity, bringing sunshine into your life. It is highly protective, as it absorbs, transforms and grounds negative energy.
Citrine improves self esteem and confidence making you less sensitive to criticism, and helps to avoid negative behaviour patterns. 

Citrine is a stone of abundance bringing in wealth, health and happiness, you will see lots of retailers have a piece in their tills ( we do! ), but not just abundance regarding money, but in your life in general.
As these are natural gemstones colours will slightly vary.