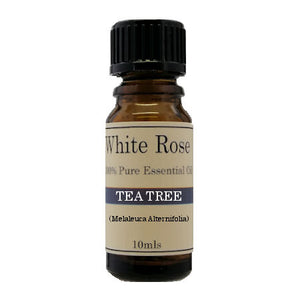 Name:

 
Tea Tree
Method :

 
Steam distillation
Note Classification :

 
Top
Scent :

 
Menthol, slight citrus, spicy, fresh, clean
Colour :

 
Pale yellow-green or colourless
Species :

 
Melaleuca Alternifolia.
Of Interest:

 
Tea Tree oil has made a bit of a comeback recently – it can be found in a wide range of cosmetics and shampoos.
Aromatherapy Properties:

 
Strong antiseptic, anti-inflammatory, anti-bacterial, anti-viral, fungicidal properties. Useful for athlete's foot, boils, herpes, ulcers, psoriasis, warts, bites, burns, cold sores, spots, sweaty feet, wounds, asthma, bronchitis, catarrh, whooping cough, candida, thrush.
Blends Well With:

 
Clary sage, lemon, lavender, rosemary, pine, geranium, clove & nutmeg.
Safety Data:

 
Non-toxic but occasionally sensitizing.