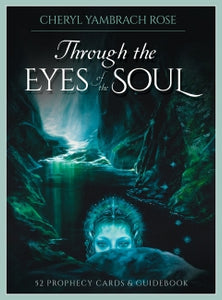 Reach into mythos, knowing, and wonder with this luminescent oracle from the celebrated visionary Cheryl Yambrach Rose. The neo-mythic images provide an energetic link to divine beings, sacred sites, and otherworldly spaces so you can access meaningful answers and direction.
The 68-page guidebook expands on the card meanings, providing insightful guidance to deepen your understanding of the messages and catalyse the connection to your higher self.
KNOW YOUR HEART AND WEAVE YOUR PATH.
The artwork was created to open inner doors so you can access profound and hidden guidance for spontaneous revelation and self-empowerment. Cheryl begins her paintings with the eyes and works outward through a vortex of colour and energy to create a channel to her subjects. Meditate on the cards for a profound experience of connection, illumination and awareness.
A uniquely-crafted oracle for actualizing wisdom and weaving your destiny, every day.

52-cards and 68-page guidebook set.
By - Cheryl Yambrach Rose.