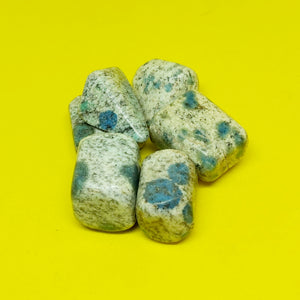 This was only discovered a few years ago and takes its name from where it was found, in the foothills of the worlds second highest mountain, Mount K2, in the Karakoram Range in Pakistan.
When it was first found opinion was divided on whether the blue dots were either Afghanite, Azurite or Lazulite. Later tests have now determined that this stone is in fact made up of White Granite (with flecks of Black Biotite) and blue dots of Azurite.
It's thought to be grounding, and enables us to see the 'bigger picture' in life, and clarity to what's going on in a situation.
Approximate weight 15g to 20g - you will get a randomly picked tumble stone.
This listing is for 1 crystal - colour / shape / weight will vary.