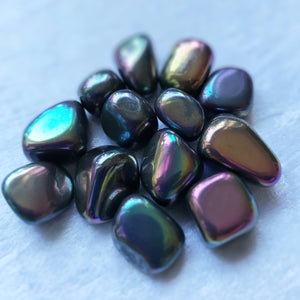 The multi coloured iridescent of Rainbow Hematite is caused by the Goethite in the Hematite.
Thought to be a great help in restoring, strengthening and regulating the blood flow. 
If you have bad circulation, people seem to respond well to holding a piece of Hematite, and you can find it in bracelets which are good for the wrist joints too.
 This listing is for 1 crystal - colour / shape / weight will vary.