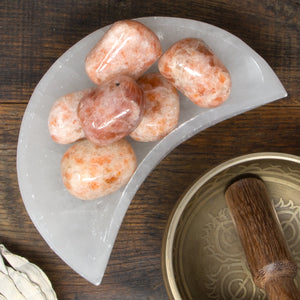 Sunstone is linked to luck and good fortune. It clears and energises all the chakras. Sunstone helps with our good natures, heightened intuition and allows the real self shine through happily.
It dissipates fearfulness, alleviates stress and increases vitality and can help you to increase your energy flow to both the solar plexus or power chakra and sacral chakra. Using sunstone and moonstone together is a great way to guarantee that you are working with balanced energy. The colours of sunstone can be yellow, red, green, blue, copper and it can also be colourless.
This is for 1 crystal - colour / shape / weight will vary.