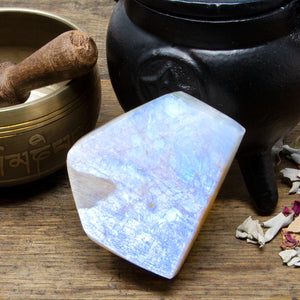 This is a stone of "new beginnings". It is strongly connected to the Moon and to the intuition. Like the Moon, this stone is reflective and reminds us that, as the Moon waxes and wanes, so everything is a part of a cycle of change. Its most powerful effect is that of calming the emotions. represents tenderness, and is believed to bring lovers closer together. Moonstone connects you to your divine feminine and inner goddess. It helps you to unlock the energy of the Moon that resides within you to keep you in a more balanced state. It acts as a guide to help you become more in tune with yourself.
Legendary as the Traveler's Stone, Moonstone is especially protective of those who travel by night or upon the water when the moon is shining. Frequent travelers should keep one in the glove compartment for safe night driving and as protection against road rage. Moonstone opens the heart to nurturing qualities as well as assisting in the acceptance of love. It is an excellent crystal for first or new love, and is a comforting talisman if love must be kept a secret. It was also believed to be able to reunite loved ones who had parted in anger.
Moonstone is also the stone of love and eroticism, stimulating the kundalini energy and carnal desires. Moonstone helps in attuning to the normal rhythms of the biological forces of one's body and to utilize natural energy cycles.
As a professional support stone, Moonstone aids dancers and artists in their self-expression, inspires the heart and feeling in executives, and helps educators in sharing activities. It enhances self-acceptance in waiters and waitresses, and promotes sensitivity in psychologists and secretaries.
Moonstone has long been known for its calming, soothing qualities on the emotional body. Its energy is balancing and healing, assisting in the mastery of emotions by bringing them under the control of Higher Will, rather than expressing or repressing them. It also helps identify emotional patterns that are stored in the subconscious, and serves as a guardian to contain explosive passions, and to stimulate confidence and composure. Moonstones can be placed at the center of the chin (the Moon Center) to create this balance. Moonstone bestows a depth of feeling, a gentleness within the self that brings happiness to the environment in which it resides. Associated with the feminine, it enhances the intuitive side of the mind. To women, Moonstone reveals their feminine power and abilities of clairvoyance, and gives rise to the kundalini energy. Moonstone helps men become more in-tune with the feminine aspects of their nature, and stimulates the right side of the brain, encouraging nonlinear thinking and emotional balance. Moonstone is especially calming to children. It soothes those away from home at night, drives away nightmares and encourages sleep. It is also used to treat sleepwalking.
Size (approximately): 6.3cm x 5.2cm x 1.5cm