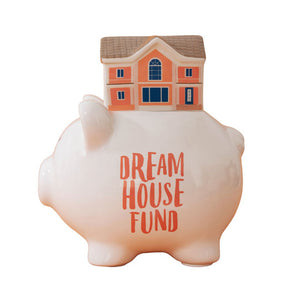 Save up for your dream house with this wonderful and colourful piggy bank by Widdop Gifts. You can put coins and notes in this novelty piggy bank and watch it become heavier and heavier as you save up towards your goal. This piggy bank is finished wonderfully in white, complete with a quirky orange house ornament on the top and matching writing that reads "dream house fund." Display within the home as a unique home accessory as well as motivation towards your dream home, you and your partner can use it together!
We absolutely love this brilliant piggy bank, it would make the perfect gift idea to a couple. Whether it be for Christmas or if they are newly engaged! Piggy banks are a great way to save money, and if its going towards your dream home you simply cannot go wrong.
Comes in a branded gift box.