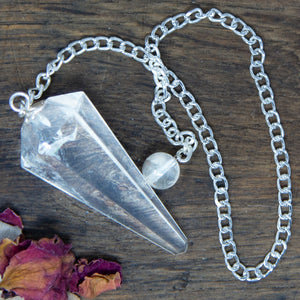 Clear Quartz pendulum -  it's used as a channel for energy, and is one form of "dowsing," which is a technique for searching for anything invisible, and by observing the motion of a pointer ... or the changes in direction of a pendulum, in response to unseen energy.
Dowsing has been relied upon for centuries, and was historically used to help people find underground water sources & minerals like gold.
Read "How to Train Your Pendulum".
FREE DOWNLOAD: Download and print a copy of our pendulum board.